Electric Ice Edgers
Weight ; 134 kg (295 lbs) Inc 3 x 12V, 75 Ah batteries
Length : 72 cm
Width: 63 cm
Height : max 117 cm , min 100 cm
Motor; DC 36V/2.500 rpm, brushless
Batteries: Maintenance free (36V) 3 x 12 V, 55AH Absorbent Glass Mat (AGM)
Cutting disc: 6 cutting edges
Battery Charger: 115/230 VAC, 60/50 Hz 36V 4.5 A Constant Current.
Gazoline or propane Ice Edgers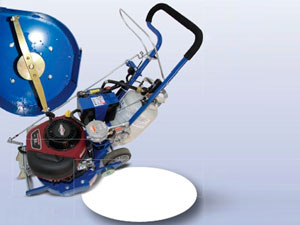 6.5 HP Engine
Wide 14-inch Cut (45 cm)
Eight sided carbide cutters
Adjustable board guide and contoured snow chute
Heavy-duty body
Mounted on large rubber wheels
Controls conveniently located near the operator
Weight :
Gasoline: 150 pounds
Propane: 200 pounds
Download the Ice Edgers flyer.
For more informations about our Ice Edgers, please contact us.