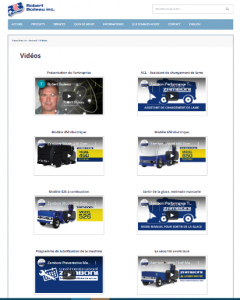 Robert Boileau Inc.'s website features interesting videos. They are intended to inform you about our company, but especially about the Zamboni ice resurfacer.
If you would like to know more about our different models of ice resurfacers or on some technical aspects of the machine, go to the "Information" tab, and choose "Videos" from the drop-down menu.
You can also click on this link:
https://www.arenazone.com/en/videos-2/
These videos relating to the Zamboni resurfacer are from the Zamboni.com site. To view all other videos offered by Zamboni (in English only), click on this link:
https://zamboni.com/videos/
Join us on Facebook for more news (mostly in French).