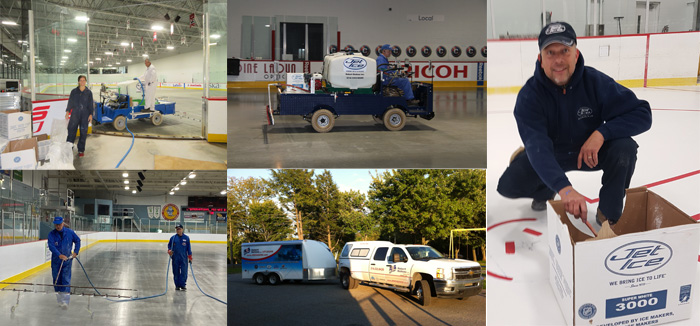 The year 2020 will be forever marked in history. The repercussions of Covid-19 are being felt everywhere. The pandemic has also had an impact on the ice-building season. The arena managers who operated year-round with no stopping in the summer, made the decision to dismantle their ice sheets in mid-March. As a result, the application period started earlier, right as the gradual return to activities started after containment.
Once again, summer has passed too quickly. We have almost forgotten that the early heatwaves made it difficult for some arena managers, by overloading their refrigeration system. Supported by solid coordination, Robert Boileau's 4 teams of painters adapted to most situations. An ever-increasing number of ice sheets have been painted and countless logos installed. The quality of Jet Ice paints and logos is undeniable. Opaque and reflective White 3000, vibrant colour paints and original, easy-to-install in-ice logos add beauty to any ice rink.
Don't forget to follow us on Facebook!