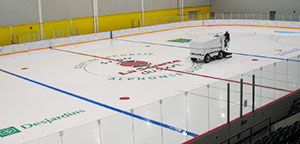 Ice Paint for Hockey, Curling and Other Ice Sports
Jet Ice Ltd. manufactures a line of premium quality ice paints specially designed and carefully formulated for arenas and curling clubs. As an exclusive distributor in Quebec, Robert Boileau has teamed up with Jet Ice since 1993 to offer the best paint on ice. We do this by working directly with arena managers of all sizes.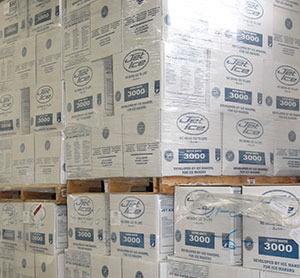 Super White 3000
The formulation of Super White 3000 creates a brilliant and intense white coating for ice sheets. It has the best hiding power of all white paints available. It is so effective that base coats are not required. The application is simple and the coverage is second to none.
The Super White 3000 is suitable as a base for all ice rink venues. We recommend 6-8 boxes of our Super White 3000 paint to cover a standard 85 'x 200' rink. Browse through our hockey, curling and other ice sports pages to find out what you need for your facility. Or contact us if you are new to the business and need help ordering.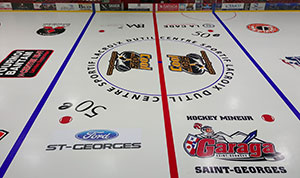 Painting with Logos, Game Lines and Circles
Once you have the perfect white base for your ice sheet, check out our full line of paints for logos, game lines and circles. They are custom formulated, come in pails of concentrated liquid, and are available in over 1000 colours!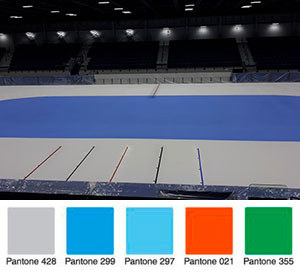 Premixed Liquid Ice Paint
Our premixed liquid paint is specifically made for special events. It is an opaque dye intended for figure skating, speed skating and other ice events. The paint comes in 5 gallon or 20-litre pails.
We can match this paint to any Pantone paint number.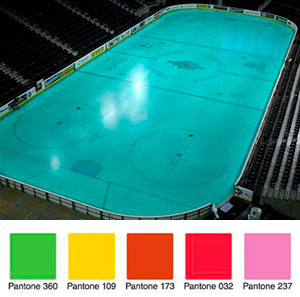 Clear Coating
Designed for the needs of figure skating, our semi-transparent ice coating is ideal for ice shows, fundraisers and special events. Its easy application and removal are two of its most attractive features.
Enhance your scene with our 7 semi-transparent colours: blue, green, yellow, orange, red, magenta and purple.
Think of special events like Valentine's Day, St. Patrick's Day, Halloween and Christmas.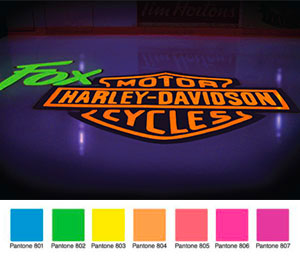 Black Light Paint
This special coating offers spectacular effects when activated by black lights. The ice then shines in the dark, offering unique and dramatic effects. Returning to normal arena lighting, the pigmentation is still clear and crisp.
For a video on ice paint and logos application, click here to visit our videos page.
For a quote or for more information on Jet Ice paint, please contact us.