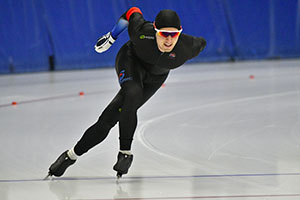 Back from Fort St. John (British Columbia), Guillaume Labbé said he was positive toward his season start. Originally from Baie-Saint-Paul, our speed skater finds ways to train despite the absence of the Sainte-Foy ice ring.
He is critical about his performances below his expectations for the 1500m and 5000m. On the other hand, Guillaume values his results for the 500m and 1000m. Here, his results show a clear improvement in speed since the last season. That is all he needs to be encouraged in his future races, especially for the 1000 and 1500m.
The short break before the next race did not provide much rest to the athlete. He left for Calgary on December 26 to prepare for the Canada Cup 2 race which will take place from January 3 to 6, 2020. He is going through a final intensive training session before this next big challenge.