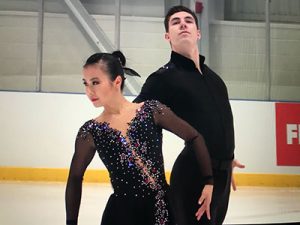 Today, Lori-Anne Matte talks about her last experience from 26 to November. The Skate Canada 2020 Challenges were held in Edmonton, Alberta. It was their 8th challenge as a couple for her partner Thierry and herself. They finished in 4th position.
Lori-Anne is fond of these challenges because the competition serves as groundwork for the Canadian Championships in January. "This competition was not our best in terms of scoring," says Lori-Ann. "But it was one of our best in terms of performance. "
They had only 4 days of training between their last competition and this one. They targeted on speed from start to finish, as well as the strength of their last program elements to finish their solo in a masterful way.
Lori-Ann considers that in Edmonton, they have demonstrated their efforts made during the last days of preparation. Their long program scored with the least error since the start of their season. She feels that their constancy in training begins to show in competition. Following the event, they focused on aspects to be prioritized when returning to training. They want to be at their utmost ready for the Canadian championships in 6 weeks.